Bring your adventures home with meaningful maps you can admire every day.
Our topographic map art prints inspire connection with personally meaningful places across Earth. The modern, clean, minimalist aesthetic of our prints accurately captures the unique forms of the landscape in a style that will feel at home among any decor. Complete the look with a ready-to-hang solid wood frame.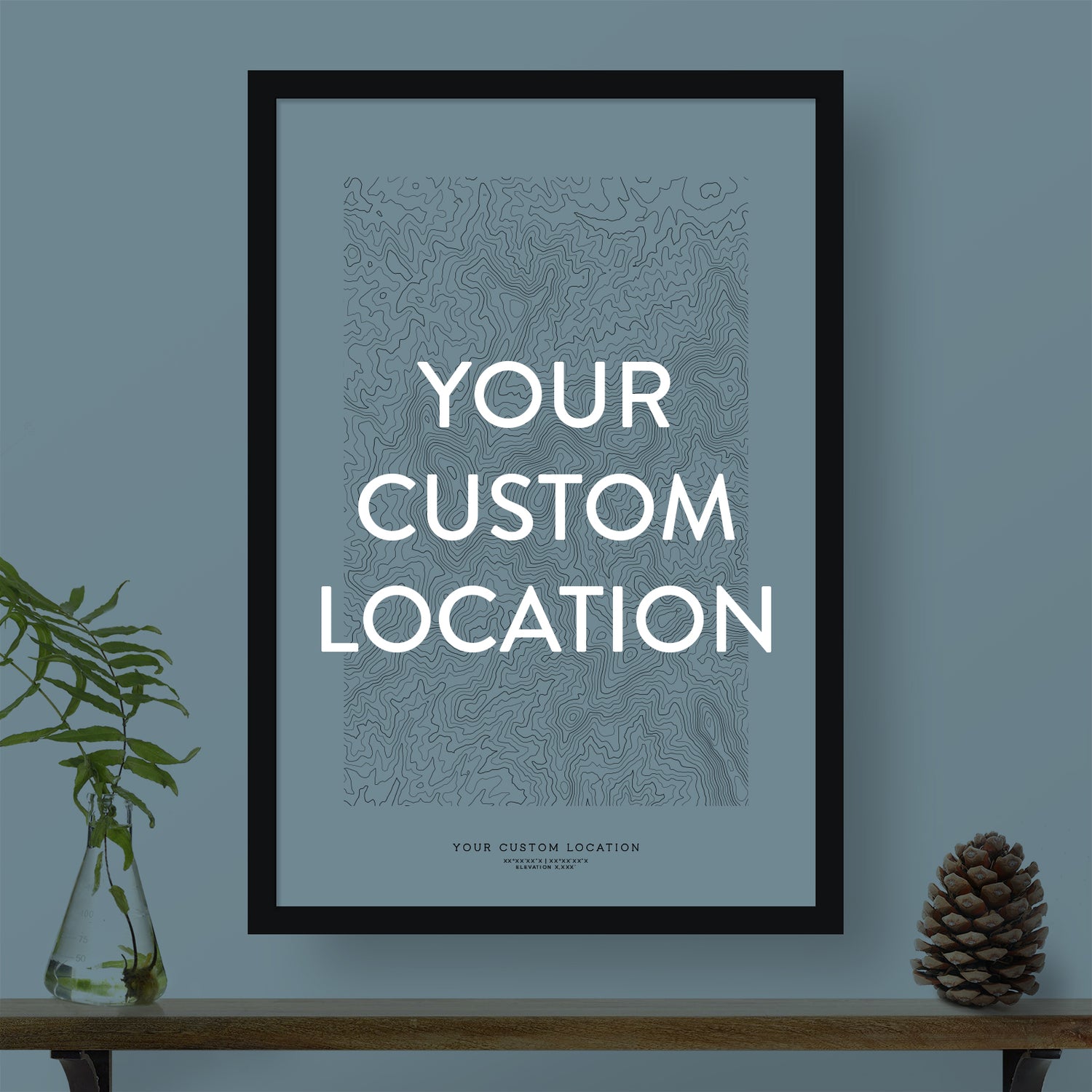 Create your own custom print
Don't see your desired location available in our shop yet? Request a custom order, and we'd be happy to make it for you from scratch. If it's a well-loved place that others are also likely to enjoy, this may be possible at no extra charge!
Learn More
MORE OPTIONS TO CUSTOMIZE YOUR PRINT
Testimonials
Highly recommended! I ordered two topographic prints that were already available and a custom print. Elissa was extremely quick to respond and great to work with. I received all three beautiful prints in the mail within days. These maps make wonderful gifts to remind someone of a special place!

Kara
Great quality print and beautiful, real wood frame! Speedy delivery to boot! I was able to create some custom additions to the print and can't wait to gift it to some very special people in my life

Melissa
This turned out SO cool! The specific place I wanted was not a default option, but Elissa was completely open to a custom order. Her communication throughout the process was great and the product arrived on time and as promised. She's amazing and I can't recommend her highly enough!

Andrew
Exactly what I was looking for! It arrived so much sooner than I expected and in perfect shape. They packaged it so well so there was no way it would be damaged.

Lyn
The print quality is excellent - such crisp lines! Thanks for the amazing product.

Andrea
Great quality and care taken in these prints and their shipping! They turned out to be fantastic gifts and I will absolutely purchase from this shop again in the future.

Aimee
Elissa was a tremendous help in creating a beautiful custom print for me. All communications were helpful and fast. Elissa also answered questions and gave advice about adding a marker at a designated location on my print. I ordered expedited shipping and everything arrived before the estimated date and in perfect condition. Absolutely satisfied!

Patrick
Working with Elissa to get my custom orders the way I wanted was a breeze. Communication was so great and she was super timely and responsive. Absolutely love the finished products!

Maria
Perfect! My husband geeks out over it every time he sees it!

Tori